The Foundry
Frank Dravis
c. Jan 2018
$3.49 ebook
$12.89 print
About the Book
A storm of greed and lust for global domination is rolling through the forests of Mount Mars, on the planet Dianis. The assault crashes against the walls of an idyllic town called Wedgewood. Over the walls Paleowright soldiers and their troglodyte allies climb and meet the human defenders sword against teeth, and shield against claws. In a staggering retreat, the defenders fight the first battle to save their planet from tyranny and galactic exploitation. Outnumbered, the citizens and mercenaries of Wedgewood stand shoulder to shoulder and send the rally call to their brethren.
For IDB Chief Inspector Achelous, if Wedgewood falls the plans to protect the planet from Nordarken Mining fail as well. Those plans rest on the forge in Wedgewood's foundry. Ruthless in its insatiable demand for a rare mineral, Nordarken ignores the federation law – ULUP -- that protects the isolated, primitive planet. Destroying whole cultures to satisfy their avarice is just the cost of doing business, but for Achelous, a ULUP enforcer, it's his job to protect the defenseless.
The politics authorizing ULUP are complex, and Nordarken is a master of manipulation. Ordered to leave Dianis, Achelous and his team face an excruciating dilemma. In a surprise, as the story of Dianis unfolds, Achelous learns he is not alone against both the global and galactic powers. Marisa, a trader princess, and Christina, an Ascalon Defender, respond to Wedgewood's rally call, but as provincials, they are unaccustomed to stellar intrigue.
The defense of liberty for Dianis starts here, in
The Foundry.
My Review
Epic in length and subject, Dravis's sci-fi fantasy far distant future world is at heart a passionate treatise on environmental protection.
When a valuable mineral is found on a distant planet that also features beings with untapped powers that could affect the tide of galactic war, the race is on to plunder Dianis's resources no matter the law.
The Foundry features Archelous, a man living a mysterious double life as an embedded native on an undeveloped world while also trying to defend that world from intergalactic turmoil. Dravis's world-building skills are finely developed, as are his very real complex characters. While I love sci-fi fantasy, I occasionally found the details overblown and admit to skipping through some parts to pick up the threads of what, at first, was a story within a story. But unlike other lengthy books I had to put down for a time due to other projects, I found I was able to pick up the story again within a page of reading.
My caveat to readers is that you will want to set aside goodly chunks of time to immerse yourself in this complicated and challenging story. Characters from a number of different environments and philosophies unite to protect not only one world, but ethics in general. Told in numerous points of view throughout, readers may occasionally need to backtrack to determine the new speaker as there is little attempt to separate these viewpoints and introspection can be muddled. The characters are unique and fresh, however, and quite engaging as they battle for justice against their own kind as well as all manner of sentient beings. Archelous is heroic, but I found myself rooting for Outish. And to learn who those folks are, you'll just have to read.
About the Author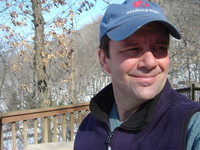 Living along the Mississippi River, Frank Dravis has leveraged his many life experiences to write
The Foundry, the first book in the Dianis, A World In Turmoil series. He was born and raised in Detroit, Michigan where he and his father cruised the Great Lakes. His father often chose to go out on the lake when it was empty, on the roughest days. Frank spent six years in the US Navy chasing Soviet submarines during the Cold War. His love of the sea is reflected in The Foundry, a love he has shared with his wife and two girls. Frank's care for Earth and the stewardship of their land in Wisconsin are reflected in the culture and ethos of the Timberkeeps.
He has two degrees, a Bachelor of Computer Science and a Master of Business Administration. Those degrees have been integral to his professional life where he has worked in a variety of roles from software engineer, to marketing executive, to chief information officer, at such prominent firms as SAP and Organic Valley. The technical and scientific acumen he gained through those endeavors is demonstrated in the series in the effort to make the Dianis brand of science practically possible somewhere in the galaxy today. Follow the Turmoil series on Facebook.